Nella giornata di ieri Microsoft e Asobo hanno rilasciato il World Update V relativo ai paesi nordici (Finlandia, Danimarca, Svezia e Norvegia.
La discussione sul forum qui:
MSFS_Nordics_NoSnipe_Logo_1920x10801920×1080 337 KB The virtual world in Microsoft's Flight Simulator is getting its latest major update, one with a focus on Europe's Nordic countries of Denmark, Finland, Iceland, Norway, and Sweden. Renowned for its natural splendor and architectural wonder...

www.volovirtuale.com
Questi gli aeroporti principali che sono stati ridisegnati oltre a decine di point of interest:
Bornholm Airport, Denmark (EKRN)
Ísafjörður Airport (BIIS)
Svalbard Airport, Norway (ENSB)
Stockholm Arlanda Airport, Sweden (ESSA)
Vaasa Airport, Finland (EFVA)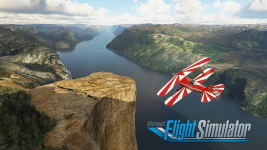 Trailer: